Brief: Suzhou Gaojing CNC Machinery Co.,Ltd is focused on selling wood machinery for more than 6 years. We devoted ourselves to edge banding machine, drilling center, machining center. The following is about Dual up drill head six side NC boring center, we hope to help you better understand of it.
Dual up drill head six side NC boring center specifications:
, double working head can work synchronize to make efficiency increase. Single worker operating, small workload, can connect with various disassembly software. Mainly for various man made board six sides boring(hingle hole/through hole/half through hole/horizontal boring), with small spindle can do milling and others.
1. Machine scan label to recognize working file, efficiency and intelligence;
2.Operating by PC, drawing by CAD, input by CAM, can directly input DXF/MPR/XML etc working format, easy operate;
3. With double gripper and long guide rail, gripper speed up to 130m/min, auto detect hole position to avoid gripper exchange time.Gripper trip up to 5.5 meter, big board can working by one time catch, reduce cabinet side board drilling time.
4. With air floating table and press panel, to form air layer at top and bottom side of board during working, improve panel feeding speed and avoid scratch;
5. Press and drilling at same time, ensure drilling precise and efficiency;special drill package position, avoid chip out and error, also avoid dust stach to stuck drill hard.

6. Working model can be select according to production capacity and technology. Have front-in front-out model, good for single worker operating; front-in back-out model good for big production capacity, flexible running and high efficiency achieve PTP machine.
7. Special machine body structure, can drill multi board horizontal hole one time.
Dual up drill head six side NC boring center FEATURES



◆Taiwan drill pack:
Up: 24V+12H
Bottom: 9V
| | | |
| --- | --- | --- |
| | | ◆Lifting table, can achieve up and bottom moveable, reduce scratch and hitting. |
| | | |
| --- | --- | --- |
| | | ◆Side aligner unit and air floating table, ensure working precise, avoid panel scratch. |
| | | |
| --- | --- | --- |
| | | ◆Safety mechanism for gripper, keep working safe. |
| | | |
| --- | --- | --- |
| | | ◆Dual gripper and long guide rail, quick working with various panel holes. |
| | | |
| --- | --- | --- |
| | | ◆Quick hogging by saw blade: can make 50-850mm hogging(H model) |
| | | |
| --- | --- | --- |
| | | ◆Air floating table and press plate, press and drilling one time, avoid scratch. |
| | | |
| --- | --- | --- |
| | | ◆Operating by PC+CAD/CAM input, scan label to working, easy operating. |
Dual up drill head six sides NC boring center LAYOUT DIMENSIONS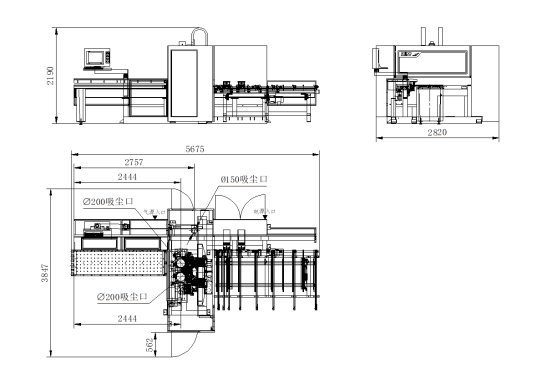 STANDARD MACHINE PARAMETERS

STANDARD MODELS

PACKAGE SIZE(X Y Z) mm

GROSS WEIGHT(kg)

POWER(kW)

Working Pressure(MPa)

KD-612MS

5700

2300

2350

3460

25.85

0.6
Dual up drill head six side NC boring center parameters
| | |
| --- | --- |
| | KD-612MS |
| Package Size | 5700x2300x2350 |
| Gross Weight(KG) | 3460 |
| Total Power(KW) | 25.85 |
| Working Pressure(Mpa) | 0.6 |
| Maximum Speed(m/min) | 130(X)/75(Y)/30(Z) |
| Minimum Processing Size (L*W) | 200*35 |
| Maximum Processing Size(L*W) | 2800*1200 |
| Y axis/V axis/ B axis maximum speed | 75m/min |
| Z axis/W axis/C axis maximum speed | 30m/min |
| Gripper Maximum speed | 130m/min |
| Number of tools | Up drill:vertical drills 24+horizontal drills 12 bottom drill:vertical drills 9 |
| Spindle power | 3.5kW *2 |
| Work-piece thickness | 9~60 mm |
| Work-piece width | 50~1200 mm 35~50mm(L≤1000mm) |
| Work-piece length | 200~2800mm |
| Dimensions | 5675L*2820W*2190H (mm) |
| Vacuum port | 200mm*2 150mm*1 |
| Drill clamp specifications | φ10 |
| Drill bag brand | Taiwan brand |