Brief: Suzhou Gaojing CNC Machinery Co.,Ltd is focused on selling wood machinery for more than 6 years. We devoted ourselves to edge banding machine, drilling center, machining center. The following is about Three-row Drill Machine, we hope to help you better understand of it.
Three-row Drill Features: High-precised and economic auto drilling machine, could select the drilling mode according to the panel size and hole position.
1. This Unit includes 2-3 rows of Upper Vertical Drilling and 1 rows of horizontal Drilling head(L+R); 3、 Applied to the process of 2 faced drilling at one procedure. Fast speed and high efficiency 2. Equips with LED display, much more precise in location 3. ; 4.Applies with Taiwan liner guider, more rigidity, improving drilling precision 5.Applies Delta PLC controlling system, improving the working accuracy.
Three-row Drill FEATURES
Liner guide from Taiwan, high precise and rigidity, precise positioning hole.
Delta PLC control system, use logic control programming, machine move quickly and precise.
Digital display: display the precise position of drill package.
Three-row Drill LAYOUT DIMENSIONS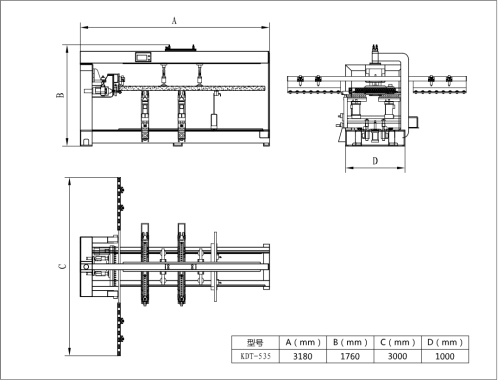 Three-row Drill parameters
STANDARD MACHINE PARAMETERS




KDT-533

KDT-535

KDT-544

KDT-547








MAX SPEED(m/min)

2800rpm(50Hz)

2800rpm(50Hz)

2800rpm(50Hz)

2800rpm(50Hz)








MIN PANEL(L*W)

35(L)*35(W)

35(L)*35(W)

35(L)*35(W)

35(L)*35(W)








MAX PANEL(L*W)

2450(L)*Any

2450(L)*Any

2450(L)*Any

2450(L)*Any








Rotating speed of boring spindles

2800rpm(50Hz)

2800rpm(50Hz)

2800rpm(50Hz)

2800rpm(50Hz)








Working table Height(mm)

950mm

950mm

950mm

950mm








Machining width(Y axis)

≥35

≥35

≥35

≥35








Max depth of horizontal boring head

40mm

40mm

40mm

40mm








Max depth of vertical boring head

65mm

65mm

65mm

65mm








Max distance of two horizontal boring holes position

640mm

640mm

640mm

640mm








Max distance of vertical drilling group

896mm

896mm

896mm

896mm








Max machining thickness

70mm

70mm

70mm

70mm








Min distance of vertical drilling group

128mm

128mm

128mm

128mm