Brief: Suzhou Gaojing CNC Machinery Co.,Ltd is focused on selling wood machinery for more than 6 years. We devoted ourselves to edge banding machine, drilling center, machining center. The following is about Multi-row Drill Machine, we hope to help you better understand of it.
Multi-row Drill Features: High-precision economical multi-row drilling machine, according to the plate size and hole position requirements, the drilling row form can be combined arbitrarily.
1. This Unit includes 2-3 rows of Upper Vertical Drilling and 1 rows of horizontal Drilling head(L+R);
2. 2.Equips with LED display, much more precise in location
3. Applies with Taiwan liner guider, more rigidity, improving drilling precision
4、 Applied to the process of 2 faced drilling at one procedure. Fast speed and high efficiency
5.Applies Delta PLC controlling system, improving the working accuracy.
Multi-row Drill Features
Multi-row Drill LAYOUT DIMENSIONS
| | | |
| --- | --- | --- |
| | | ◆Liner guide from Taiwan, high precise and rigidity, precise positioning hole. |
| | | |
| --- | --- | --- |
| | | ◆Delta PLC control system, use logic control programming, machine move quickly and precise. |
| | | |
| --- | --- | --- |
| | | ◆Digital display: display the precise position of drill package. |
Multi-row Drill LAYOUT DIMENSIONS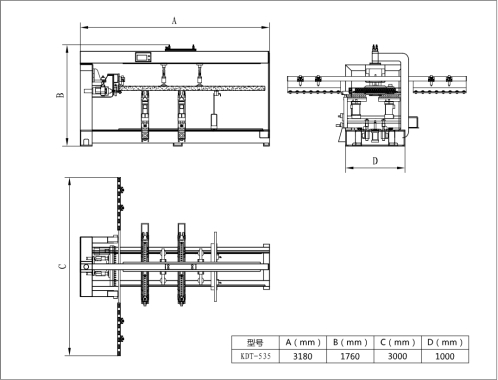 Multi-row Drill parameters
STANDARD MACHINE PARAMETERS

STANDARD MODELS

PACKAGE SIZE(X Y Z) mm

GROSS WEIGHT(kg)

POWER(kW)

Working Pressure(MPa)

KDT-533

3390

1500

1800

1180

4.5

0.6-0.8

KDT-535

3390

1500

1800

1280

5.9

0.6-0.8

KDT-544

3390

1500

1800

1320

6

0.6-0.8

KDT-547

3390

1500

1800

1480

8.1

0.6-0.8