Brief: Suzhou Gaojing CNC Machinery Co.,Ltd is focused on selling wood machinery for more than 6 years. We devoted ourselves to edge banding machine, drilling center, machining center. The following is about Automatic Multi-row Drill , we hope to help you better understand of it.
Automatic Multi-row Drill Features: High-efficiency double-model multi-row drilling machine, drilling on three sides at the same time, fast speed and high efficiency. "One machine with two functions", can be divided into two stations to drill at the same time, flexible and changeable.
1. The equipment includes multiple sets of vertical drilling rows, 2 sets of horizontal drilling rows, and drilling rows can be combined freely;
2. It is suitable for completing three-sided drilling operations in one process in the production process of panel furniture, with fast speed and highly efficiency;
3. The movement of the drill row adopts digital display, the position is accurate and reliable;
4. The drill row of the vertical drilling group adopts a pneumatic locking system to realize independent 0-90° adjustment of the angle of each drill row;
5. "One machine with two functions", according to different needs, the machine can be divided into two working positions;
6. Adopt Taiwan linear guide, with high precision, good rigidity and more precise drilling;
7. Using Delta PLC control system, programming is logic control, so that the machine completes the actions accurately.
Automatic Multi-row Drill FEATURES
| | | |
| --- | --- | --- |
| | | ◆Double station control:machine can work in different model at same time, like two machine working. |
| | | |
| --- | --- | --- |
| | | ◆Liner guide from Taiwan, high precise and rigidity, precise positioning hole. |
| | | |
| --- | --- | --- |
| | | ◆Delta PLC control system, program applies with the logic control, much faster and accurate in drilling. |
| | | |
| --- | --- | --- |
| | | ◆Quickly pneumatic control self-locking technology:can make drilling package move and lock by pneumatic switch on drilling package seat, quickly and precise, save setting time. |
| | | |
| --- | --- | --- |
| | | ◆Digital display: display the precise position of drill package. |
Automatic Multi-row Drill LAYOUT DIMENSIONS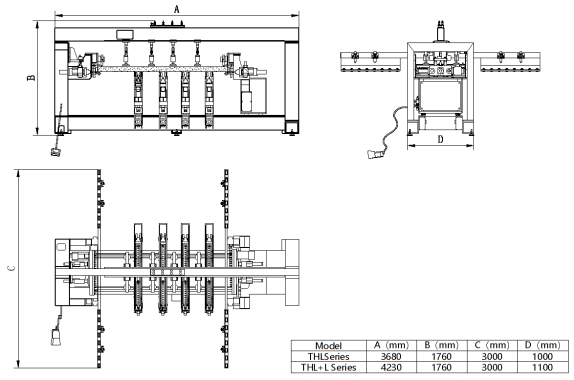 STANDARD MACHINE PARAMETERS

STANDARD MODELS

PACKAGE SIZE(X Y Z) mm

GROSS WEIGHT(kg)

POWER(kW)

Working Pressure(MPa)

KDT-5606

3840

1500

1800

2180

9

0.6-0.8

KDT-5606L

4300

1500

1800

2300

9

0.6-0.8

KDT-5610

3840

1500

1800

2380

11.8

0.6-0.8

KDT-5610L

4300

1500

1800

2500

11.8

0.6-0.8