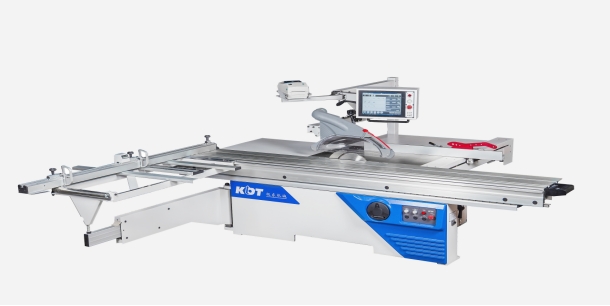 Brief: Suzhou Gaojing CNC Machinery Co.,Ltd is focused on selling wood machinery for more than 6 years. We devoted ourselves to edge banding machine, drilling center, machining center. The following is about CNC Table Saw, we hope to help you better understand of it.
CNC Table Saw Introduction:
sliding table saw controlled by PC is available for cutting in various materials ,namely, MDF, chip board, plastic board and solid wood materials. It is a widely used machine for all kinds of furniture factories.
1. Heavy duty frame body with steel structure. Processed by German laser machine and precision welded. 2. Digital display on rip fence, the adjusting precision is up to 0.1mm, improving the cutting accuracy. 3. Configures with dust suction hood, satisfied the needs on dust suction when the max.cutting height is 100mm or sawing to 45 degree cutting angle, easy to adjust. 4. Saw assembly uses durable linear guides. Saw axis corrected twice by balancing adjustment. Standard with LEITZ saw blade. 5. Adopting KST's own development software" Machinery Client Sizing Saw". 6. Order adding model: support for excel BOM import and can make simple optimized layout design. 7. Online mode: can associate with NC beam saw
CNC Table Saw FEATURES
| | | |
| --- | --- | --- |
| | | ◆15 inch industrial PC:Windows control |
| | | |
| --- | --- | --- |
| | | ◆To achieve bar code printing |
| | | |
| --- | --- | --- |
| | | ◆Digital display Rip Fence,adjusting accuracy up to 0.1mm. |



◆Dust suction cover with support swing arw. Can meet the MAX cutting height of 100mm or 45 degrees.







◆Automatic angle adjustment(0~45 degree)
| | | |
| --- | --- | --- |
| | | ◆CNC positioning system.Using servo drive high precision ball screw drive,ensuring accuracy. |
CNC Table Saw LAYOUT DIMENSIONS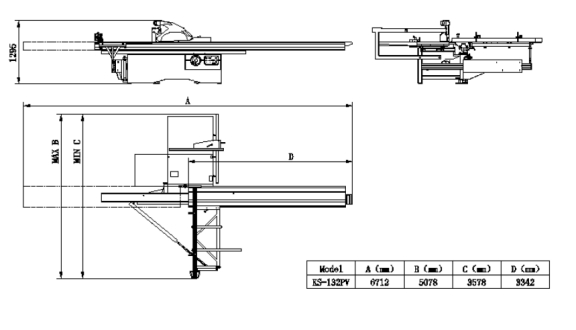 STANDARD MACHINE PARAMETERS

STANDARD MODELS

PACKAGE SIZE(X Y Z) mm

GROSS WEIGHT(kg)

POWER(kW)

Working Pressure(MPa)

KS-132PV

3300

2200

1600

1000

7.2

0.6
| | |
| --- | --- |
| | KS-132PV |
| MAX SPEED(m/min) | / |
| MIN PANEL(L*W) | / |
| MAX PANEL(L*W) | 3120*3800*80/100mm |
| Blade tilting degree | 0-45° |
| Main saw motor lifting | Auto |
| Main saw motor power | 5.5kW |
| Main saw rotating speed | 4000/5000 r/min |
| Main saw size | φ300*φ30mm(φ350*φ30mm for option) |
| Max cutting length | 3120mm |
| Scoring saw diameter | φ120*φ22mm |
| Scoring saw motor power | 1.1kW |
| Sliding table length | 3200mm |
| Vert cutting height | 80mm(100mm for option) |
| Vertical parallel baffle rod stroke | 1250mm |