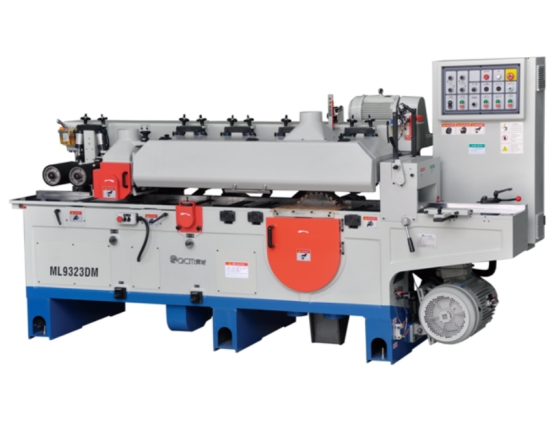 Brief: Suzhou Gaojing CNC Machinery Co.,Ltd is focused on selling wood working machinery for more than 6 years. We devoted ourselves to edge banding machine, drilling center, machining center. The following is about sawing and planing combination Machine, we hope to help you better understand of it.
sawing and planing combination Machine professional solution:four-side planing and vertical multichip sawing combined processing, fit for efficient and mass production of wainscot board, clapboard and antiseptic plank, etc. The machine is an integration of four-side moulder and multiple blade saw, achieving muti-usage.
Sawing and planing combination machine Product introduction:
1. This machine can do multi-blade rip saw and planing: first saw, then planing.
2. The machine body(frame) is made of cast iron, and the worktable is covered with hard chrome, wear-resistant.
3. Ten sets of upper feeding wheels and five sets of bottom feeding rollers.
4. The feeding speed is controlled by frequency inverter.
5. The rear worktable can be adjusted up or down to meet the different cutting depth.
6. Equipped with kick-back fingers at the feeding inlet, to prevent wood returning back.
7. Saw spindle adopts electric lifting, and equipped with cooling device for the saw blades.
8. Have centralized lubrication system, lubricating for sliding and rotating parts.,etc.
9. Main electrical components and transmission parts from international brands.
Sawing and planing combination machine Technical parameters:
| | | | |
| --- | --- | --- | --- |
| NO. | Item | Unit | ML9323DM |
| 1 | Max.working width | mm | 230 |
| 2 | Working thickness | mm | 15-100 |
| 4 | Max.cutting depth of bottom planing cutter | mm | 3 |
| 5 | Max.cutting depth of top planing cutter | mm | 5 |
| 6 | Max.lifting of movable rear worktable | mm | 4 |
| 7 | Max.movement of movable long side fence | mm | 8 |
| 8 | Planing spindle speed | r/min | 6800 |
| 9 | Saw spindle speed | r/min | 4500 |
| 10 | Feeding speed | m/min | 6-25 |
| 11 | Planing spindle dia. | mm | φ40 |
| 12 | Saw spindle dia. | mm | φ50 |
| 13 | Blade dia. bottom planing cutter | mm | φ125 |
| | top planing cutter | mm | φ125-φ160 |
| | saw blade size | mm | φ200-φ350×Φ70 |
| 14 | Total power | KW | 42.3 |
| | saw spindle motor | KW | 22/30(选) |
| | bottom planing motor | KW | 7.5 |
| | top planing motor | KW | 7.5 |
| | Feeding motor | KW | 4.0 |
| | Beam lifting motor | KW | 0.75 |
| | saw spindle lifting motor | KW | 0.55 |
| 15 | Upper feeding wheel dia. | mm | φ140 |
| 16 | Dust outlet dia. | mm | 5-φ140 |
| 17 | Overall dimension | CM | 338×145×180 |
| 18 | Weight | Kg | 3450 |