Multi-blade Rip Saw(top saw)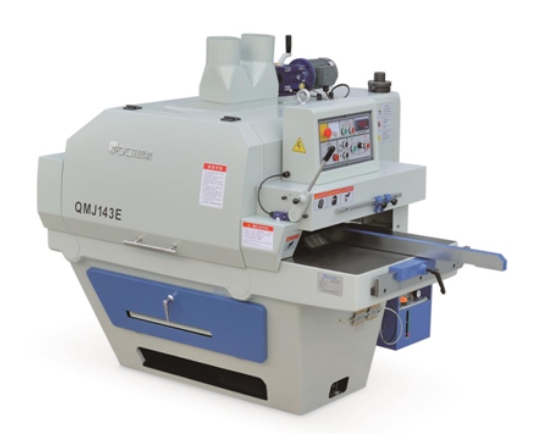 Brief: Suzhou Gaojing CNC Machinery Co.,Ltd is focused on selling wood working machinery for more than 6 years. We devoted ourselves to edge banding machine, drilling center, machining center. The following is about Multi-blade Rip Saw(top saw), we hope to help you better understand of it.
Multi-blade rip saw (top saw) professional solution: make multi-blade rip cut for under 120mm thick wood. Heavy and stable machine body, equipped with feeding crawler belt and V guide track, and the saw shaft is strong and rigid,doing the multi-slice rip cut.
Multi-blade rip saw top saw Product description
Working thickness: 10~120mm
Min. Working length(single/continuously):600mm/300mm
Max. Working width: 300mm
Blade dia:φ205mm~φ380mm
Blade bore dia: φ70mm
Spindle dia: φ55mm
Spindle speed: 4000 r/min
Spindle power: 37kW
Feeding power:2.2kW
Feeding speed(inverter):4~30m/min
Lifting motor for pressure roller: 0.37kW
Dust outlet:2×φ150mm
Air need for collection system:3800m3/h
Air speed for collection system:25~35m/s
Table height:740mm
Table size:1735×760mm
Dimension:190×160×175cm
Weight:2300kg
Multi-blade rip saw top saw Processing parameter reference:
Blade dia.

Work-piece thickness(mm)

Blade QTY

Note

φ205~φ255

20~30

15




30~40

12




φ255~φ305

40~60

8




60~80

6




φ305~φ380

80~100

5




100~120

4




Note: cut 10mm thick wood, one blade needs 0.75KW power.
Note:all above pictures and parameters are subject to the real product. We reserve the right to improve our product.