Multi-blade Rip Saw (bottom saw)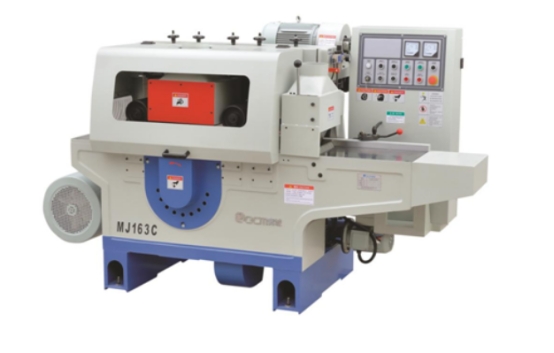 Brief: Suzhou Gaojing CNC Machinery Co.,Ltd is focused on selling wood working machinery for more than 6 years. We devoted ourselves to edge banding machine, drilling center, machining center. The following is about Multi-blade Rip Saw (bottom saw) , we hope to help you better understand of it.
Multi-blade rip saw professional solution:upper and bottom two saws make multichip rip cut vertically, for under 180mm thick and 300mm wide wood. Equipped with up and down 3 groups of anti-rebound safety devices, protecting the workers. The feeding wheels with tooth ensure the smooth feed flowing.
Multi-blade Rip Saw (bottom saw) Product description
Working thickness:10~100mm
Max. working width:300mm
Min. working length (next to each other).:300mm
Feeding speed:6~24m/min
Spindle dia:φ55mm
Reduction sleeve dia:φ70mm
Spindle speed:4000r/min
Spindle motor:30KW(optional22KW)
Spindle lifting motor:0.37KW
Feeding motor:2.2KW
Beam lifting motor:0.75KW
Dust outlet dia:.φ150mm×2
Table height:840mm
Dimension:230×119×148cm
Weight:1900Kg
The machine body(frame) is made of cast iron, stable performance. And in order for operator safety, it is equipped with anti-kick back fingers at the inlet. The feeding speed is controlled by variators. Please ask for the details.
Note:all above pictures and parameters are subject to the real product. We reserve the right to improve the product.