Double-side Planer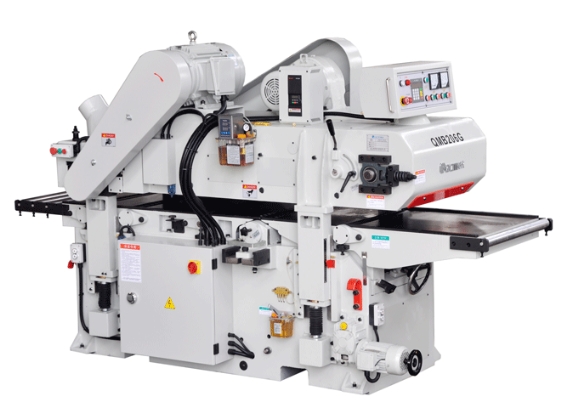 Brief: Suzhou Gaojing CNC Machinery Co.,Ltd is focused on selling wood working machinery for more than 6 years. We devoted ourselves to edge banding machine, drilling center, machining center. The following is about high-speed double-side plane product, we hope to help you better understand of it.
High-seed double-side plane product professional solution:double-side planing, fit for large scale,high efficient and mass production. Configurate the spiral cutter spindles, hard tooth surface reduction box and international brand frequency converter,ensuring the high speed cutting, stable performance and high efficiency.
High speed Double-side plane Product Main features:
The machine body is made of cast iron, with special treatment and precisely processed by five-sided gantry machining center, which ensures the stable performance and working precision.
The worktable adopts the wear-resistant special material, with heat treatment and precision grinding, which makes the worktable surface flat and clean and keeps the long service life.
Equipped with spiral cutters(top and bottom), and assembled with international brand SKF bearings.
The feed system is equipped with hardened face reducer and frequency converter with 3.7KW power, realizing frequency control for feed speed.
The upper feed system is equipped with fault alarm monitoring device. If the chain running is stuck, overloaded or fall off, the alarm switch will give out alarm signal, easy for user to troubleshot.
Equipped with numerical control thickness setting device, easy and precise to set the thickness.
Equipped with quick changing mechanism for changing bottom cutter, and fast adjusting mechanism for belt tightness, which saves the cutter changing time, easy and fast to operate.
Equipped with automatic oil pump and hand pump, respectively lubricate the feeding chain, the sliding and rotating parts.
The main electrical components and transmission parts adopt international brand components, which have stable performance and good reliability.
Note: The product is constantly upgraded,we reserve the right of improving the parameter and appearance of this product.
3.high speed Double-side plane Product Main technical parameters
| | | | |
| --- | --- | --- | --- |
| NO. | Para.Name | unit | QMB206G |
| 1 | Max. Working width | mm | 630 |
| 2 | Max. Working thickness | mm | 200 |
| 3 | Min. Working thickness | mm | 10 |
| 4 | Min. Working length | mm | 310 |
| 5 | Max. Cutting depth top cutter | mm | 5 |
| | Bottom cutter | mm | 3 |
| 6 | Cutter speed | r/min | 4800 |
| 7 | Feed speed | m/min | 5-25 |
| 8 | Cutting circle dia. Of the cutter | mm | Φ125 |
| 9 | Total power | kW | 23 |
| | top cutter power | kW | 11 |
| | Bottom cutter power | kW | 7.5 |
| | feed power | kW | 3.7 |
| | lifting power | kW | 0.75 |
| 10 | Cutting blade size | mm | 30*12*1.5 |
| 10 | Dust outlet dia. | mm | Φ150 |
| 11 | Overall dimension | cm | 290*118*183 |
| 12 | Weight | kg | 3200 |