Brief: Suzhou Gaojing CNC Machinery Co.,Ltd is focused on selling wood machinery for more than 6 years. We devoted ourselves to edge banding machine, drilling center, machining center. The following is about high speed automatic Edge Banding Machine, we hope to help you better understand of it.

High speed Automatic Edge Banding Machine Features:
full automatic high speed edge banding machine, pre-milling + quick-up gluing 1+5 wheels pressing 1 + quick-up gluing 2+ 5 wheels pressing 2 + double rail end cutting + fine trimming 1 + fine trimming 2 + high speed corner rounding + scraping 1+ scraping 2 + flat scraping + double running buffing 1+ double running buffing 2 + vertical hogging(equip with H model, horizontal hogging L is optional)
1. Heavy frame structure machine body
2. Function upgrade, satisfy the request of edging and hogging
3. Double up gluing system (equip pre-melt, auto adding glue, reserve PUR port), can equip PUR glue machine as optional choice, switching EVA and PUR glue.
4. Double fine trimming, can improve tool working lifetime, using pneumatic control, can trimming with different kinds of radian.
5. Belt conveyor, the feeding speed is faster, improve the efficiency.
6. Heating lamp unit: setting at front of gluing, can pre-heating plate and make edging effect better.
7. Intelligent temperature control, can control machine glue temperature by touch screen setting, save electric power.
8. 7.5KW conveyor motor and equip automatic lubrication system, save time and improve efficiency.
9. Siemens electrical components
10. Visible adjustment for trimming and scraping, improve the accuracy.
High speed Automatic Edge Banding Machine FEATURES
| | | |
| --- | --- | --- |
| | | ◆PC control: touch screen computer, HMI control, clear figure display, easy operating. Fault information can intuitively reflect the fault and troubleshooting through image and text display. |
| | | |
| --- | --- | --- |
| | | ◆Pre-milling mechanism, large diameter diamond cutter, motor power 3.7kW, maximum pre-milling height 40mm (optional 65mm), milling surface ripple and expansion material, edge bander effect is better. |
| | | |
| --- | --- | --- |
| | | ◆Double quick melt pressing mechanism, quick switch glue color into dark and light, more efficiency. |



◆5 wheels pressing unit:
pressing more strong; with scraper on wheel, fix glue stock problem, easy for maintain.



◆Belt conveyor:
Ensure stability and clean during high speed transmit, improve efficiency and quality.



◆Heating lamp unit:
heating when panels in , reduce the wasting rate and cost,improve the edging effect.
| | | |
| --- | --- | --- |
| | | ◆Auto gluing storage box:can reserve 13KG glue for auto adding. |
| | | |
| --- | --- | --- |
| | | ◆Double-rail end cutting unit, effectively cut off the edge tape from front to back, two saw blade works together, to achieve a best accuracy and efficiency. |
High speed Automatic Edge Banding Machine LAYOUT DIMENSIONS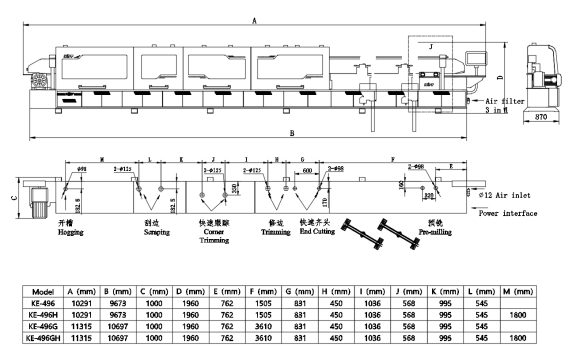 STANDARD MACHINE PARAMETERS




STANDARD MODELS

PACKAGE SIZE(X Y Z) mm

GROSS WEIGHT(kg)

POWER(kW)

Working Pressure(MPa)




KE-496

10391

1250

1960

/

28.62

0.6




KE-496G

11415

1250

1960

/

34.12

0.6




KE-496GH

11415

1250

1960

/

37.82

0.6






APPLICATIONS




KE-496 series edge banding machine accessory products







KE-496 series edge banding machine accessory products