Four-side Moulder(6 spindles)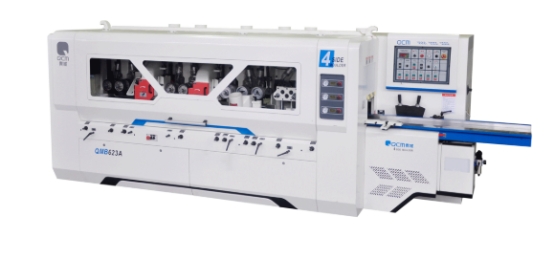 Brief: Suzhou Gaojing CNC Machinery Co.,Ltd is focused on selling wood working machinery for more than 6 years. We devoted ourselves to edge banding machine, drilling center, machining center. The following is about four-side moulder 6 spindles, we hope to help you better understand of it.
Four-side moulder 6 spindles are equipped with worktable with positioning grooves,reducing the worktable surface heating. The moving worktable is with the floating driving roller. Use international brand frequency converter, ensuring the table performance and easy operation.
Four-side moulder 6 spindles Product description
Item

QMB623A

Max.working width(cutter dia.φ125)

230mm

Min.working width(cutter dia.φ125)

20mm

Max.working thickness(cutter dia.φ125)

160mm

Min.working thickness(cutter dia.φ125)

8mm

Min.working length(single)

840mm

Min.working length(continuously)

280mm

Max.lifting of movable long feeding table

7mm

Max.movement of movable long side fence

7mm

Spindle dia.

φ40mm

Upper feeding wheel

φ140mm

Feeding speed

6~36m/min

Spindle speed

6800r/min

Cutter dia.

Front bottom cutter(planing)

φ125

Front bottom cutter(trim edge D*H)

φ152×12

Vertical cutter

φ108 ~φ200mm

Front/rear top cutter

φ108 ~φ180mm

Rear bottom cutter

φ108 ~φ230mm

Motor power

Front bottom/right vertical spindle motor

Each 5.5kW

Left/two top/rear bottom spindle motor

Each 7.5kW

Feeding motor

5.5kW

Beaming lifting motor

0.75kW

Dust outlet dia.

φ150mm×6

Air supply pressure

0.6MPa

Collection system air requirement

180m3/min

collection system air speed

30~40m/s

Overall dimension(L*W*H)

496×190×170(cm)

Weight

5600Kg
Note: we reserve the right of improving the parameter and appearance.