Brief: Suzhou Gaojing CNC Machinery Co.,Ltd is focused on selling wood machinery for more than 6 years. We devoted ourselves to edge banding machine, drilling center, machining center. The following is about Double-trim Edge Banding Machine , we hope to help you better understand of it.
Double-trim Edge Banding Machine Features:
Automatic edge banding machine, pre-milling + gluing and Pressing + end cutting + rough trimming + precision trimming(double precision trimming for model A) + scraping edge + polishing (double polishing for model with G).
Suitable for edge banding of a variety of materials, equipped with basic pre-milling, gluing and pressing, end cutting, rough trimming, precision trimming, scraping edge, and polishing functions to meet the basic requirements of wood panels Edge banding requirements.
1. Double trimming and increase the tool usage time.
2. PLC intelligent control system: feeding speed 15-23m/min.
3. Electric lifting of pressure beam: high degree of automation.
4. Heat preservation function: When the equipment is running idle, it will automatically switch to the state of shutting down heat preservation function, reducing the waiting time for heating and the phenomenon of glue carbonization, and high efficiency and energy saving.
5. Cutting automatic lubrication system: to ensure smooth operation of the cutting mechanism and increase the service life of parts.
Double-trim Edge Banding Machine Features :



◆10 inch touch screen,smart temperature control:
Can set the function of heat preservation, when the equipment is empty, automatically switch to the function state of shutdown.



◆Double Gluing and Pressing System(with G model):
Double gluing system, quick switching between dark and white improve production efficiency.



◆End-cutting automatic lubrication system:
Ensure the end-cutting unit to run smoothly,and prolong service life of the part.



◆Scraping unit:
Effectively scrap off the grains on the edge tape as well as the visible glue line



◆Rough and fine trim(with "A" model is double fine trim):
Remove the upper and lower sides of the edge out of the upper and lower surfaces of the board.



◆Pneumatic Control System(with A model):
Suitable for customized furniture production.automatically change between 4 different kinds of edge thickness from the HMI, more efficiency.
Double-trim Edge Banding Machine LAYOUT DIMENSIONS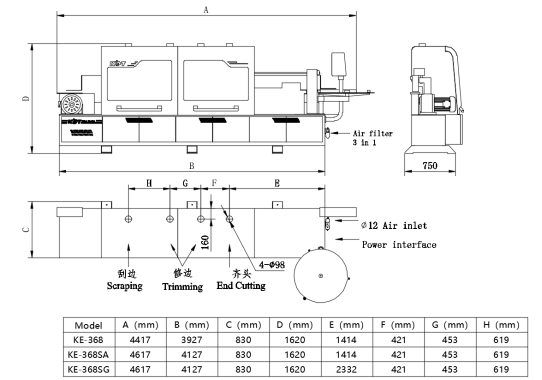 STANDARD MACHINE PARAMETERS

STANDARD MODELS

PACKAGE SIZE(X Y Z) mm

GROSS WEIGHT(kg)

POWER(kW)

Working Pressure(MPa)

KE-368

4517

1000

1650

1495

10.6

0.6

KE-368SGA

5965

1000

1650

1900

15.94

0.6