Full Automatic Edge Banding Machine
Brief: Suzhou Gaojing CNC Machinery Co.,Ltd is focused on selling wood machinery for more than 6 years. We devoted ourselves to edge banding machine, drilling center, machining center. The following is about full Automatic Edge Banding Machine , we hope to help you better understand of it.
Full Automatic Edge Banding Machine Features:
Automatic edge banding machine, gluing and pressing + end cutting + precision trimming + scraping edge + polishing.
This edge banding machine is suitable for various materials, equipped with basic gluing and pressing, end cutting, precision trimming, scraping edge, and polishing functions to meet the most basic board edge banding requirements.
1. PLC intelligent control system: feeding speed 15-23m/min.
2. Electric lifting: high degree of automation.
3. Heat preservation function: When the equipment is running dry, it will automatically switch to the state of shutdown and heat preservation function, reducing the waiting time for heating and the phenomenon of glue carbonization, and high efficiency and energy saving.
4. Cutting automatic lubrication system: to ensure the smooth operation of the cutting mechanism and increase the service life of parts.
Full Automatic Edge Banding Machine FEATURES



◆10 inch touch screen,Smart temperature control:
Can set the function of heat preservation, when the equipment is empty, automatically switch to the function state of shutdown.



◆End cutting unit:
Remove the superfluous edges.



◆Fine trimming unit:
Remove the upper and lower sides of the edge out of the upper and lower surfaces of the board.



◆Buffing unit:
Remove the edges of the edge of the seal edge and the residual glue between the edge and the board, making the edges of the board more clean and smooth.



◆Gluing & press unit:
Apply the melt adhesive to the sealing surface of the workpiece. Through the special structure, the sealing side plate and the sealing side materials are evenly coated.



◆End-cutting automatic lubrication system:
Ensure the end-cutting unit to run smoothly,and prolong service life of the part.
| | | |
| --- | --- | --- |
| | | ◆Scraping unit, effectively scrap off the grains on the edge tape as well as the visible glue line |
Full Automatic Edge Banding Machine LAYOUT DIMENSIONS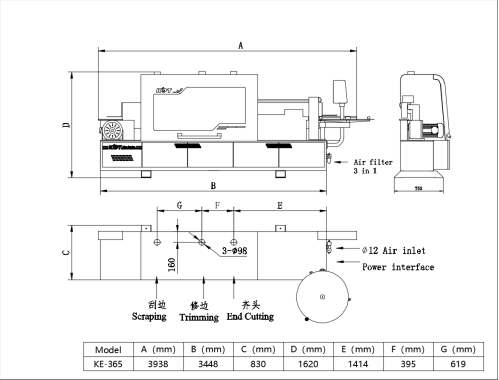 Full Automatic Edge Banding Machine Specifications:
| | |
| --- | --- |
| Specifications | KE-365 |
| Package Size | 4038x1000x1650 |
| Gross Weight(KG) | 1130 |
| Total Power(KW) | 9.1 |
| Working Pressure(Mpa) | 0.6 |
| Maximum Speed(m/min) | 23 |
| Minimum Processing Size (L*W) | 120*80 |
| Maximum Processing Size(L*W) | / |
| Sheet Thickness | 0.4-3mm |
| Sheet Width | ≥120mm |
| Sheet Length | 10-60mm |
| Electric Lift | ≥80mm |
| Edge Band Thickness | ● |
| Feed Rate | 15-23m/min |
| Equipped with Vacuum Wind Speed | 30m/s |