Brief: Suzhou Gaojing CNC Machinery Co.,Ltd is focused on selling wood machinery for more than 6 years. We devoted ourselves to edge banding machine, drilling center, machining center. The following is about Five-sided Drilling Center, we hope to help you better understand of it.
Five-sided Drilling Center Application features: The efficiency of the five-sided CNC drilling completely reaches the level of the double-station PTP machining center. It is operated by a single person for general work and has a small workload. It can be directly connected with a variety of order-dismantling software. It is mainly used for vertical (hinge hole, through hole, semi-through hole) and horizontal drilling of all kinds of man-made boards. Small saw blade grooving is optional.
1. The system recognizes processing information by scanning codes, which is intelligent and efficient.
2. Computer operation, CAD drawing, CAM import, open data formats such as DXF, MPR, XML, etc. can be directly imported, which is convenient to operate.
3. Double gripper guide rails are adopted, the maximum speed of gripping material can reach 130m/min, and the intelligent detection of hole position information effectively avoids the hole position, reducing the time of hand changing during the drilling process. The gripper stroke is over 4.4 meters, large plates can be grasped and processed at one time, and the drilling processing time of the large side plate of the wardrobe is greatly shortened.
4. Equipped with air-floating worktable and air-floating pressure plate, the upper and lower surfaces of the plate will form an air layer during the processing process, which improves the conveying efficiency of the plate and avoids scratching the plate; the pressure plate is drilled at the same time to ensure the accuracy and efficiency of the drilling; The unique installation position of the drill bag prevents the floating and deviation of the hole position caused by the floating of the plate during drilling; and effectively prevents the dust from the drill bag from causing the drill bit to jam and affect production.
5. The machine body has a unique structure and can drill horizontal holes of multiple plates at one time.
6. The processing mode can be selected according to the production output and production technology. In the forward and backward mode, the next plate can be processed after the plate is processed. The whole process is smooth and the standby time is short. The forward and backward mode can be connected for production, and the comprehensive drilling reaches the level of the imported double-station PTP drilling processing center; The front-out mode is mainly for the processing of more double-sided vertical drilling.
Five-sided Drilling Center FEATURES
| | | |
| --- | --- | --- |
| | | ◆12V+8H drilling package |
| | | |
| --- | --- | --- |
| | | ◆Double gripper with long rail for continuous drilling |
| | | |
| --- | --- | --- |
| | | ◆PC control with CAD/CAM, easy operation,label scanning processing. |
| | | |
| --- | --- | --- |
| | | ◆Scan label to be processed (scanner for free, no warranty ) |
| | | |
| --- | --- | --- |
| | | ◆Air floating table and pressure beam, pressing and drilling at same time to avoid scratched panel. |
| | | |
| --- | --- | --- |
| | | ◆High speed servo driven |
| | | |
| --- | --- | --- |
| | | ◆Option with Saw Blade: processing 50-850mm straight line grooving |
Five-sided Drilling Center LAYOUT DIMENSIONS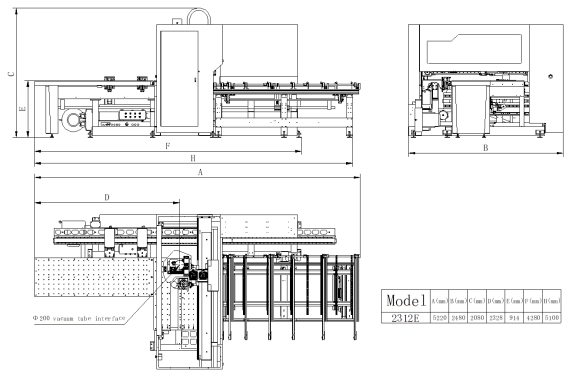 Five-sided Drilling Center parameters
STANDARD MACHINE PARAMETERS

STANDARD MODELS

PACKAGE SIZE(X Y Z) mm

GROSS WEIGHT(kg)

POWER(kW)

Working Pressure(MPa)

KN-2312E

5200

2300

2350

2800

12.95

0.6

KN-2312HE

5200

2300

2350

2800

12.95

0.6